Glock released the 43X and the 48 early in 2019 with a matte silver nPVD finish to the slide. Some of my friends joked this was too close to a Gucci Glock for their taste; I guess my New Jersey showed that day because I think the Silver versions are awesome-looking pistols. Either way, this summer, Glock released the 43x and 48 with a factory black nPVD finish to the slide that will soothe those with ruffled feathers by a silver Glock.
Live Inventory Price Checker
There is no difference between the silver or the black finishes to 43X or the 48. AmmoLand writer Tom McHale has already taken a close look at both the GLOCK 43X and the GLOCK 48 in their silver versions, here we will discuss concealing and shooting these slimline pistols.
First off, it should be noted that between these two pistols, the 43X and the 48, there are shared features. For example, both accept the same 10-round single stack magazine. This allowed GLOCK to redesign the frame and grip from the original 43 to the slimline version that is shared by both pistols here. While I have held and shot a 43, the bulky grip was one thing I never enjoyed, I also absolutely needed the extension for my pinky.
The 43X and 48 have entirely done away with the bulky grip problem by making the frame a bit longer and, in the process, more narrow. For some, the additional length of the grip might be an issue as that is the part of the firearm most likely to print underneath a shirt. For myself, concealing a Glock 19 IWB is easily done without printing. So, to argue that the 43x or the 48 presents a challenge is a bit laughable to me.
During the summer, I traveled throughout Wyoming on my way to a three-gun competition in Cody. Throughout my travels of that state, I cycled between the Glock 43X and the 48 using two CrossBreed holsters to keep them concealed. Rolling around in shorts, T-shirts, and tactical flip flops, I had no issues keeping both pistols concealed (not at the same time). Now that it is colder out, keeping these pistols concealed is easier than it has ever been.
Let's quickly touch on the CrossBreed holsters, as they were my primary means for carrying the 43X and 48. Both holsters were identical Reckoning IWB setups and were used for appendix carry. Both were very comfortable, definitely due to the leather backing and remained comfortable even while sitting in a car and driving for hours throughout Wyoming. Drawing the gun is smooth and has adjustable retention if you want to snug it down even more. One thing that you can add to this holster system is a sidecar magazine pouch, this puts your spare right next to your holster and removes cluttering your pockets with another 43x magazine.
Range time is where it all matters the most, though. How did the Glock 43X & 48 shoot?
Going back to the grip briefly, it really does make a difference for both pistols out on the range. No longer needing an extended magazine to keep my pinky on the gun means there is one less thing to remember as I grip the gun for a draw. This is a big deal for humans with normal-sized hands, and it leads to an overall better experience shooting. Not only is the extended length a benefit but the grips narrow profile at only 1.10" on both models, which also means both pistols feel very good in the hand.
While the grip is where these two pistols are identical, it is the slide where things change in length. With a longer barrel, sight radius, and overall length, the Glock 48 is undoubtedly the larger of the two pistols, but that does not mean it is harder to conceal. On the contrary, the 48 is as easy to conceal and in my opinion, was easier and more enjoyable to shoot than the smaller Glock 43X.
Triggers on both pistols were pretty similar, and both benefit from the upgrades found in the Gen 5 versions of Glock pistols. I did put both on a trigger gauge and found the 48 came in a touch lighter than the 43X. Pulling both triggers can be described as some take-up to a hard wall, a clean break, and an audible reset with the right length for fast follow-up shots. For me, I feel very comfortable behind these guns, I also own a Glocks, and the trigger is right in line with what you would expect from others.
One thing I noticed that speaks to the "slimline" nature of these pistols is how narrow the slide release is. During my time on the range, I found that under slide-lock conditions, activating the slide release with my thumb was not necessarily the easiest thing. My solution was to simply change my methodology from the micro-movement of using my thumb to release the slide to the macro-movement of racking the slide. The upside of this design is the slide release is highly unlikely to snag on anything during your draw.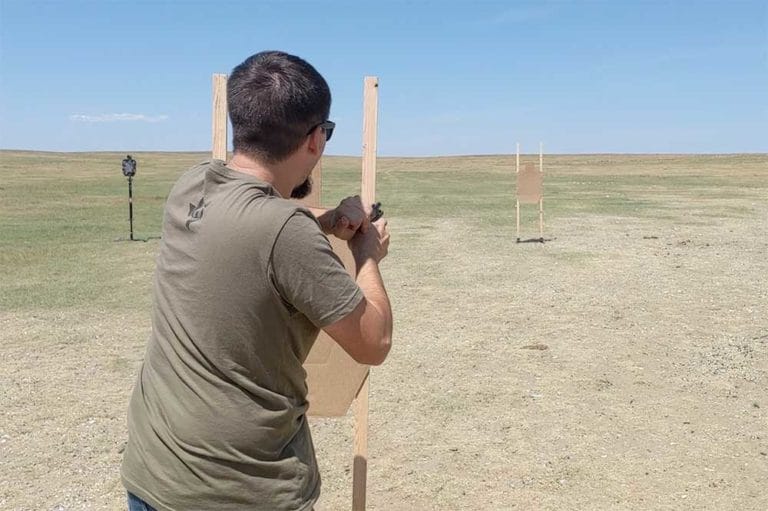 If you abhor coming over the top of your pistol to rack it into action and are vehement that you use your thumbs to release the slide, you still can do that, but you need to commit to it in training. It requires the right amount of pressure that I guess my girly hands cannot manage so that I will go over the top, and you do whatever floats your boat.  My point is you will have to commit to what works best for you. In this case, with these pistols, I found it easier to rack the slide to get it back in action.
On another note of the slide, there are front serrations on both pistols for the press checkers in the crowd. Glock has finally cut up the front end. For myself, I do not use the front serrations much, although I understand the idea behind it and why they should be there, especially on a concealed carry pistol.
If there were two things I would ask for on these pistols, it would be an accessory rail on the frame and an optics-ready version. Everything on these pistols has been optimized for discreetly carrying and also shooting comfortably. As you would expect, both of these pistols ran flawlessly without a single malfunction encountered. If you are looking for a new concealed carry pistol the Glock 43X and the 48 are excellent options, and best of all they are black again!
---
About Duncan Johnson:
Duncan firmly believes in the Second Amendment, and that "shall not be infringed" means exactly that. A lifelong firearms enthusiast and a graduate of George Mason University, now competing regularly in 3 gun competitions, Duncan is always looking to improve his shooting skills. Duncan is a regular contributor to AmmoLand and assists in everyday gun-news publishing as an assistant editor.