Josh Wayner builds a .450 Bushmaster AR-15 Hunting rifle from off-the-shelf parts, but the build runs into trouble. Keep reading this series & see what the issues are and how they can be resolved. (Experienced gunsmiths should check all modifications to rifle parts before use, and AmmoLand News does not recommend you try this build at home, this article series is for educational purposes only.)

GRAND RAPIDS, MI USA -(Ammoland.com)- The .450 Bushmaster is a unique case in today's hunting and shooting world, literally and figuratively.
In this article, I will be building an AR-15 with the help of my good friends at Brownell's. I will delve into some of the good, the bad, and the ugly as far as this cartridge is concerned, and I'll show you how to make a gun that shoots well.
One of the most interesting parts of the .450 BM is that it is a really terrible cartridge in almost every sense of the word. It is large and heavy, despite being designed around lightweight semiautomatic rifles, is relatively slow, has a rebated .308 size case head, and has a somewhat undefined performance spectrum. The cartridges use magnum pistol powder, small rifle primers, and .452" bullets. Nothing about this cartridge seemed destined for success, especially with the known issues it has in most AR mags (a topic so maddening that I have devoted an entire upcoming article to it).
Certainly, the .458 SOCOM and other big-bore rounds would be better, right? I think so, but hunting laws don't really care about what this writer thinks.
For all the strange attributes this cartridge has, it is rapidly growing in popularity. It is fast becoming a favored round in states that prohibit bottlenecked cases, such as my home state of Michigan. No other cartridge out there really offers the same power, versatility, and legality of the .450 BM. It wasn't what the law was written for, but if the shoe fits…
An interesting point in this conversation is that the .450 is drifting away from semiautomatics somewhat. It is a straightforward conversion for a .308 bolt action rifle, as all that is required is a barrel change. Most modern .308 rifles have AICS compatibility, such as the Ruger Gunsite Scout, and the .450 fits and feeds easily in .308 magazines. The growing trend in bolt actions has overshadowed what good is coming out in the Semiauto game, and that isn't fair considering what is available now, especially from Brownell's. While reading this article, you will notice that there are Brownell's product codes next to the parts so that you can see what I used to build this excellent rifle.
The center of the build here is Brownell's amazing barrel, bolt, and muzzle brake set (Brownells 450 Bushmaster 16″ Barrel for Carbine Gas System: 080-001-361WB). I decided on this barrel set because it has everything I needed to make the gun a .450 BM. Unlike the very popular .300 Blackout, which is only a barrel change away from a standard 5.56mm AR, the .450 needs a different bolt with a face that has been opened up significantly. The Brownell's set makes this easy, and you won't have to worry about picking the wrong parts. The barrel is 16" long, features a 1:14" twist rate, and is threaded 11/16-24. The muzzle brake that comes with the set is very effective and looks great.
Continuing with the upper receiver, I decided to go an unusual route and went for an Aero Precision model with no forward assist (AERO Precision AR-15 Stripped Upper: 100-014-637WB).(Editors NOTE: the ejection port on the stock Aero upper part listed here does not accommodate big bore cartridges without gunsmith modifications, proceed at your own risk.)
Why didn't I go with a 'big bore' upper that already has the ejection port opened up for the larger .450 cases?
I decided to do this the old-fashioned way in much the same way that a hobby builder would go about it. People tend to treat this gunsmithing stuff like witchcraft, but in reality, it is easy and takes only a few minutes with a Dremel Tool. I figured that many people would be unaware of 'big bore' uppers and would buy a standard one. I modified this one quickly in about a half hour. Not much material needs to be removed.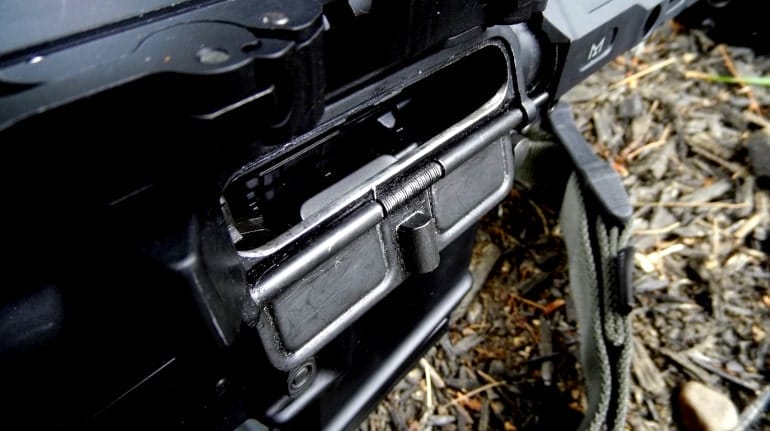 Inside the upper, I opted for the Brownell's mil-spec M16 bolt carrier group (078-000-250WB) and the Brownell's AR-15 charging handle (078-101-153WB). These were simple additions and I knew that they worked well. The charging handles on my other guns tend to be larger and stick out more. I wanted something slimmer and less likely to catch while out hunting.
The following two items I used to finish the upper were from Midwest Industries. Due to height considerations and not wanting the gas tube to be bent going into the receiver, I picked the Low Profile gas block (100-002-854WB). Using an AR-10 gas block will make the tube sit too high in relation to the upper receiver. The handguard I settled on is the brand-new Midwest Industries Combat Handguard (100-030-229WB). This is an awesome handguard, fits tight, and is very, very lightweight. Also from Midwest Industries was the bipod adaptor that I used to fit the Harris BRM (416-005-100WB).
Moving down to the lower receiver, you will notice that there isn't much difference from a standard 5.56mm lower. I decided to go old school and picked Brownell's M16 A1 lower receiver (080-001-304WB). This is a nice, cool lower that is close in detail to the classic military original. The small parts of the receiver came in one kit from Geissele. This kit contains everything you need to finish a lower except the trigger, which also came from Geissele. The GS2 two-stage trigger (100-011-673WB) is a must-have on any hunting AR rifle. This is a fantastic trigger that feels great and breaks like glass. I love it, and it makes shooting this powerful rifle very controllable.
The trigger guard I selected is the Brownell's Billet 7075 (078-101-164WB), and it is great for shooting with gloved hands. The stock I decided on was the Magpul UBR 2.0 in OD Green (100-018-763WB). This is a great stock and allows for the perfect cheek weld while at the same time being very adjustable. Michigan's hunting season is long, and the weather varies, so I like having an adjustable stock that is as solid as a fixed one. To match, I went with the Magpul K2 grip in OD (100-011-681WB), as I like my grip angle a bit steeper than a regular mil-spec fixture. I used the awesome Geissele Super 42 Braided Wire spring and buffer (100-020-750WB) to finish the lower.
Assembling the rifle was pretty straightforward for an AR. I had to do minor hand-fitting around the gas block and the ejection port. These took me only a little while and could be easily accomplished by a novice.
With the gun assembled, I took it to the range and immediately ran into problems. The rifle wouldn't feed or eject!
I began looking into this problem and discovered that it was the magazines that were causing the issue for the most part. My odyssey into .450 Bushmaster magazines will be a complete article by itself, as will the trials and problems I had with .450 BM ammo. I wish I could say that everything went well, but there isn't much knowledge about the .450 out there, and my problems and how I solved them will undoubtedly help you during your build. I will be covering how this gun shoots in an upcoming article.
I ended up getting the rifle to work and cycle properly, but there were long hours of toil in the process. The rifle build I completed with Brownell's was fun and a bit of a challenge. The pairing of the .450 and the AR-15 goes back to the roots of the cartridge, but it is still not a great round for the AR platform in my mind. It is, however, fast becoming one of the most popular hunting cartridges around.
Stay tuned for the rest of this article series, where I will discuss modifying magazines, and other great .450 BM rifles, troubleshooting ammunition, and accurizing the semiautomatic .450 rifle.
The rifle parts I used for this article can be found at www.brownells.com
**All modifications to rifle parts should be checked by experienced gunsmiths before use, and AmmoLand News does not recommend you try this build at home, this article series is for educational purposes only.**
---
About Josh Wayner
Josh Wayner has been writing in the gun industry for five years. He is an active competition shooter with 14 medals from Camp Perry. In addition to firearms-related work, Josh enjoys working with animals and researching conservation projects in his home state of Michigan.