Gun control restrictions in Washington State FAILED to reduce homicides, Report shows 96% increase in homicides.
The gun control measures have MADE PEOPLE LESS SAFE, & calls go out for their repeal, stating that the gun prohibition lobby has deceived voters.
The number of murders recorded is the highest since 1980, & questions the effectiveness of gun control laws, while gun control PROPONENTS DOUBLE DOWN on failed measures.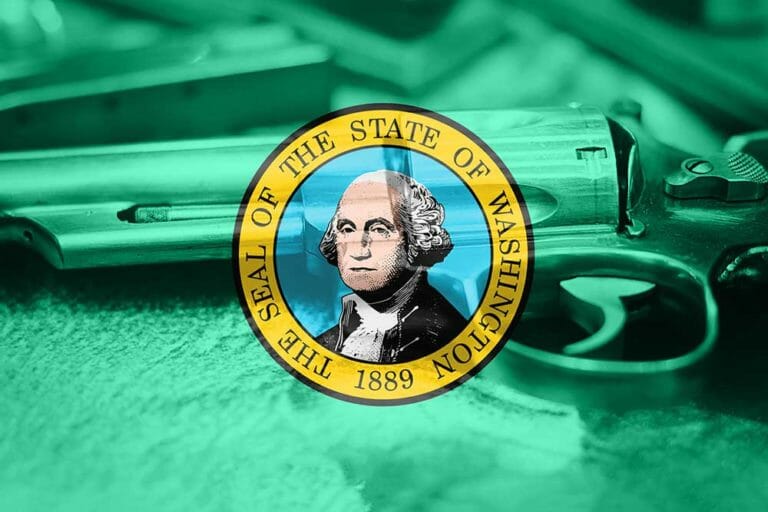 U.S.A. — After nine years of adopting increasingly restrictive gun control laws—including two billionaire-backed citizen initiatives—Washington State's homicide body count has gone up, and the gun prohibition lobby is silent.
Worse still, it appears nobody in the local media is asking about the failure of those gun restrictions. One local gun rights group is raising the issue, however.
A new report from the Washington Association of Sheriffs and Police Chiefs (WASPC) offers "ample evidence" that gun restrictions have "failed miserably," according to the Citizens Committee for the Right to Keep and Bear Arms, and their chairman thinks those gun laws should be repealed. CCRKBA is based in Bellevue, Wash.
"These gun control measures have only helped make people less safe, and it should be clear to voters they've been deceived by the gun prohibition lobby, which will no doubt try to spin the new report to suggest even stricter measures are necessary," said CCRKBA Chairman Alan Gottlieb.

"In private business," he added, "if something repeatedly doesn't work, the plan is scrapped and the company tries something else. If the people responsible refuse to let go, they might be fired…It is time to hold these people accountable and for the Legislature to acknowledge that gun control extremism has been an abject failure. Restrictions created by I-594 and I-1639 can legally be repealed, along with Ferguson's 2022 ban on magazines and this year's ban on so-called 'assault weapons.' Washington citizens deserve better and it is time for a change of direction."
He was alluding to Initiatives 594, passed in 2014 and 1639, passed in November 2018.
WASPC released its lengthy report, stretching more than 580 pages, on Monday. A summary of the contents caused Gottlieb to tell AmmoLand News that one figure especially is "scary." Since 2019, the report said, "homicides have increased 96 percent." The 394 slayings recorded in 2022 shows a 16.6 percent increase over 2021, when the state logged 338 murders, according to data on Page 9 of the WASPC report.
In 2014, following a $10.2 million campaign financed by the billionaire-backed Alliance for Gun Responsibility—a Seattle-based gun prohibition lobbying group—voters passed Initiative 594, which called for "universal background checks." At the time, then-Seattle Mayor Ed Murray incredulously declared, "Washington has made a significant commitment to gun safety for all," after the voting results were announced.
"As the first state to pass this by popular vote, Washington has sent a message of hope to other states that progress is possible," Murray said, according to Reuters.
Critics in the firearms community have occasionally observed with no small amount of sarcasm, that if the current situation in Washington State is "progress," people might be better off to go back in time to the era of log cabins.
CCRKBA's Gottlieb came out swinging with a scathing reaction which had a strong "I-told-you-so" message.
On top of the restrictions in I-594, there were even more sanctions in I-1639, which prohibited sales of so-called "semiautomatic assault rifles" to young adults in the 18-to-20-year age group. This measure also literally invented a definition of a "semiautomatic assault rifle" that applied to every self-loading rifle, regardless of caliber or appearance, ever manufactured anywhere. Further, it requires every semi-auto buyer to prove he/she has completed a firearms safety course within the previous five years, a mandate Gottlieb once compared to a "literacy test" for voting. Such tests were declared unconstitutional years ago by the U.S. Supreme Court.
Gottlieb said the WASPC report amounts to a vindication of his vocal opposition to both initiative measures.
"While the billionaires who bankrolled both initiatives were saying these measures would reduce crime," he recalled, "we were telling people the truth, and the WASPC report vindicates our arguments. WASPC says last year's 394 murders is the highest number of homicides recorded by the group since 1980.
"At this point," Gottlieb added, "it is fair to ask what good has any of these laws accomplished?"
He lamented that anti-gunners, when faced with this sort of refutation of their failed policies, merely double-down and call for more controls. As if to underscore the point, Democrat U.S. Senator Patty Murray, who has represented Washington for the past three decades, went on Twitter Sunday with this message:
"We have a gun violence epidemic in this nation that will not solve itself. To protect our families, communities, and children, we need to pass common-sense gun safety measures, including a federal assault weapons ban."
We have a gun violence epidemic in this nation that will not solve itself. To protect our families, communities, and children, we need to pass common-sense gun safety measures, including a federal assault weapons ban.

— Senator Patty Murray (@PattyMurray) July 9, 2023
There may be one caveat, found in a report from the Council on Criminal Justice (CCJ) that gun control proponents might try to use.
"The number of homicides in 2022 was 4% lower than counts recorded in 2021," CCJ said, "representing 242 fewer murders in the 27 cities that publicly report monthly homicide data. The national homicide rate remained 34% higher than in 2019, the year before the pandemic began, and about half the historical nationwide peaks in 1980 and 1991."
And KING-TV in Seattle—the local NBC affiliate—reported, "While the total number of murders reached an all-time high in 2022, Washington state's murder rate was higher in 1994 when adjusted for population, according to data compiled from the report. There were 297 murders reported across the state in 1994."
However, gun rights advocates say the percentage argument doesn't wash, because the raw homicide numbers are still dramatically higher, and they are the only numbers which count. Gun control proponents promote each new scheme as a way to reduce violent crime, including murder, period.
An unscientific survey being conducted online by KOMO-TV in Seattle—the local ABC affiliate—was showing 94 percent of respondents feel less safe today.
WASPC also noted in its overview that the "total number of commissioned officers statewide was 10,666, down from 10,736 in 2021, while the total population of the state increased by 93,262. Washington again is ranked 51st out of the 50 states and District of Columbia for the number of officers per thousand residents."
This is a result of "de-fund police" efforts over the past few years.
In addition to the two gun control initiatives, the Washington Legislature last year passed a ban on so-called "large capacity magazines" at the request of Democrat Attorney General Bob Ferguson, now considered his party's leading contender as the state's next governor. Earlier this year, lawmakers passed a ban on so-called "assault weapons," which Ferguson also requested.
Washington's 2024 legislative session is six months away, and by then, the WASPC report may have been forgotten, but not by Evergreen State gun rights activists who have had enough of failed gun control policies and will be demanding change.
'False Promises'—WA Murders Climb; Crickets from Gun Control Crowd
---
About Dave Workman
Dave Workman is a senior editor at TheGunMag.com and Liberty Park Press, author of multiple books on the Right to Keep & Bear Arms, and formerly an NRA-certified firearms instructor.