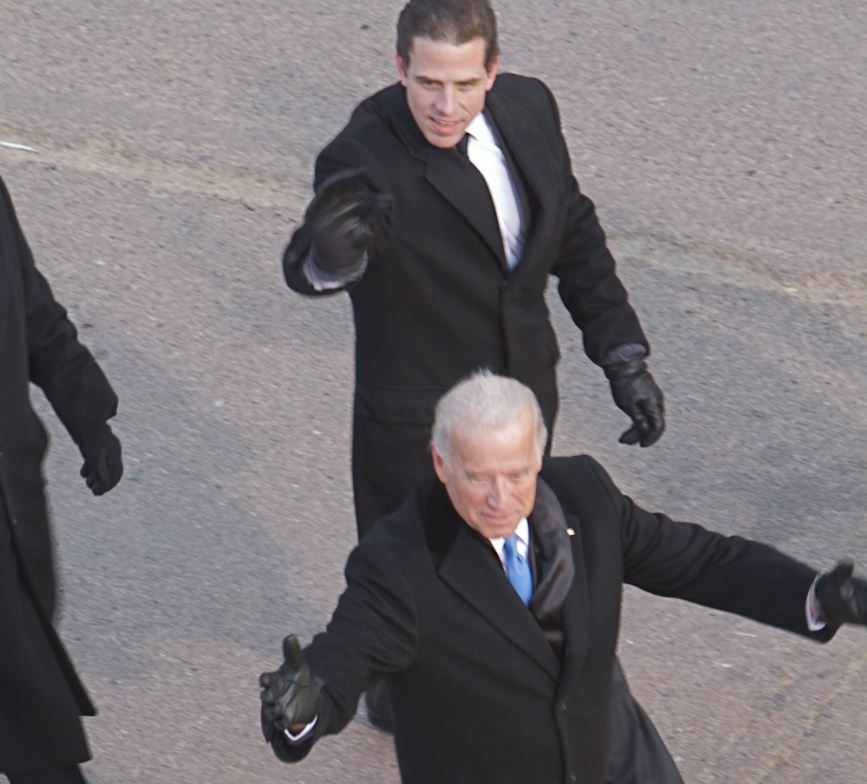 U.S.A. — Two new Rasmussen polls have President Joe Biden and his son, Hunter, on the receiving end of bad news, as a majority (55%) of likely voters disapprove of the plea bargain that kept the younger Biden out of jail—while settling an alleged gun law violation that would have put others in prison—and even more (58%) believe Joe was involved in his son's foreign business dealings.
Rasmussen released the survey results on two consecutive days, while the president's job approval ratings haven't seemed to budge in recent weeks.
The sweetheart deal handed to Hunter was blasted immediately last month by the Citizens Committee for the Right to Keep and Bear Arms. CCRKBA Chairman Alan Gottlieb called it an "outrage" that Hunter Biden got probation on the felony gun law violation.
According to Rasmussen, only 37 percent of likely voters approved of the plea bargain, while a whopping 67 percent "believe it is likely that Hunter Biden received favorable treatment from federal prosecutors because his father is the president, including 49% who say it's very likely."
Will it become a campaign issue? Maybe it already is, as the president has been dodging questions about the plea arrangement and the gun prohibition lobby has been silent. Many conservative pundits have contended that if Hunter's last name was Trump, the plea arrangement never would have happened and the media would be putting stories on every front page in the country, above the fold.
Naturally, divisions along party lines were inevitable. Rasmussen revealed 63 percent of Democrats "at least somewhat approve of the plea deal for Hunter Biden, but only 18% of Republicans and 27% of unaffiliated voters approve." Meanwhile, 66 percent of Republican voters "Strongly Disapprove" of the deal, as do 45 percent of Independent voters and 14 percent of Democrats.
When asked separately about the likelihood the president has been involved in his son's questionable foreign business dealings, only 33 percent think it isn't likely and only 10 percent aren't sure. Among the 58 percent who think it is likely, 44 percent told Rasmussen it is "very likely" the elder Biden has been involved.
All of this comes as the Biden administration has been on the receiving end of bad news from the federal courts on two pet issues: regulating arm braces and changing the definition of firearm frames and receivers to the status of operable guns. These cases are still in the early stages, but so far, District Court judges have not been sympathetic to the Biden team's efforts to ratchet down on gun rights.
So what's next for Democrats? The answer might have been revealed by an article in The Hill, suggesting Democrats such as perennial anti-gun Sen. Chuck Schumer (D-NY)—the Senate Majority leader—will target suburban women to launch a new gun control effort.
Former Senate Majority Leader Bill Frist (R-TN) told The Hill that the "dynamic" is changing among at least some Republican voters on gun legislation.
"More needs to be done on gun safety today," Frist reportedly stated. "Something more needs to be done because the overall governance of gun safety is outdated and it's incomplete."
The publication noted polling which suggests suburban voters "support tougher gun laws."
The Hill report also noted, "A recent poll conducted in early May by All In Together, a nonprofit women's civic education group, and Echelon Insights, a GOP polling firm, found that guns are the number one concern of women voters ahead of the 2024 election."
That website features the poll report from June 11. The report notes, "According to our most recent poll, guns are the number one concern among women voters in 2024. Half of women say guns are a 'dealbreaker' issue and won't support a candidate who doesn't agree with them. 63% of liberals say the issue is a dealbreaker, compared to 45% of conservatives and 41% of moderates. This makes guns a particularly important issue for them. This is also an important issue for young women, 58% say it's a dealbreaker for them."
This translates to a huge job ahead for the gun rights community. There will need to be more outreach and inclusion, a job the embattled National Rifle Association presently seems unable to do with the same effect and energy as demonstrated in years past.
The GOP may have to do more of the political heavy lifting over the next year. But they have issues which could sway those suburban women just as much as Democrats with their gun control mantra: Crime. The Democrats' record on dealing with crime has been less than stellar, and instead of confronting the issue head-on, liberals are still falling back on the strategy of blaming guns, gun owners and the Second Amendment for the current crisis. Republicans will have to remind those suburban women that soft-on-crime Democrats have set policies which allow crime to flourish.
Hunter Biden's deal with the Justice Department could be a good example of "soft-on-crime," or at least a double standard enjoyed by the Democrat elite.
And between now and the 2024 campaign season and national elections, the federal courts, including the Supreme Court, could hand down other rulings which might change the political landscape even more.
---
About Dave Workman
Dave Workman is a senior editor at TheGunMag.com and Liberty Park Press, author of multiple books on the Right to Keep & Bear Arms, and formerly an NRA-certified firearms instructor.