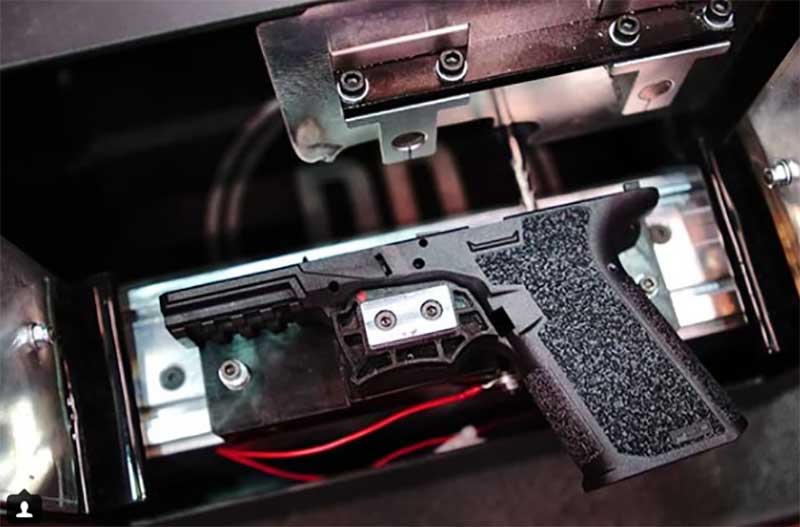 U.S.A. — The executive director of the Second Amendment Foundation said over the weekend the gun rights organization will continue its efforts against the Biden administration's now-vacated effort to treat firearm frames and receivers the same as functional firearms if the ATF appeals last Friday's loss in federal court in a case known as VanDerStok v. Garland.
SAF was allowed to intervene in the case last December. Late Friday, U.S. District Judge Reed O'Connor handed down the decision Friday, noting in his 38-page ruling that, "A part that has yet to be completed or converted to function as frame or receiver is not a frame or receiver. ATF's declaration that a component is a 'frame or receiver' does not make it so if, at the time of evaluation, the component does not yet accord with the ordinary public meaning of those terms."
"This case is one more example of the Biden administration's ongoing effort to exceed its authority in an effort to place as many restrictions as possible on the rights of law-abiding gun owners," said SAF Executive Director Adam Kraut. "We are pleased the court took this decisive action, and we will litigate this issue to finality, if and when, the government appeals."
An appeal seems likely, as the Biden administration is determined to pass more gun restrictions. SAF was allowed to intervene, along with Defense Distributed, and the group appears to be in for the proverbial long haul.
The Washington Examiner reported the court loss as a blow to Biden's "war on guns." The ruling derailed, at least for the moment, the Biden administration's effort against so-called "ghost guns."
In covering the history of this case in his ruling, Judge O'Connor wrote, "In 1978, ATF promulgated a rule interpreting the phrase 'frame or receiver,' which the GCA does not define. The rule defined the 'frame or receiver' of a firearm as '[t]hat part of a firearm which provides housing for the hammer, bolt or breechblock, and firing mechanism, and which is usually threaded at its forward portion to receive the barrel…That definition remained in place until last year.
"In April 2022, ATF published the Final Rule changing, among other things, the 1978 definition of 'frame or receiver.' …ATF split the phrase into two parts, assigning the term "frame" to handguns and the term "receiver" to any firearm other than a handgun, such as rifles and shotguns…ATF then defined the terms 'frame' and 'receiver' along the same lines as the 1978 rule, though with updated, more precise technical terminology."
However, as noted by the judge, "But ATF did not stop there. Rather than merely updating the terminology, ATF decided to regulate partial frames and receivers. Under the new Final Rule, "[t]he terms 'frame' and 'receiver' shall include a partially complete, disassembled, or nonfunctional frame or receiver, including a frame or receiver parts kit, that is designed to or may readily be completed, assembled, restored, or otherwise converted to function as a frame or receiver."
Elsewhere in his ruling, the judge takes ATF to task for its contention that, because it had taken action previously against firearm components, it had regulatory authority in this case.
However, Judge O'Connor wrote, "If these administrative records show, as Defendants contend, that ATF has previously regulated components that are not yet frames or receivers but could readily be converted into such items, then the historical practice does nothing more than confirm that the agency has, perhaps in multiple specific instances over several decades, exceeded the lawful bounds of its statutory jurisdiction. That the agency may have historically acted ultra vires does not convince the Court it should be permitted to continue the practice."
"We are delighted with Judge O'Connor's ruling, and it certainly underscores why we intervened in this case," said SAF founder and Executive Vice President Alan Gottlieb. "This decision amounts to another court blow to Joe Biden's anti-gun agenda, which threatens the very Constitution he swore to uphold and defend when he took office."
It's been a tough few weeks for the Biden administration in court. In late May, U.S. District Court Judge Jane J. Boyle granted a preliminary injunction in a SAF challenge to the Biden administration's new "Arm Brace Rule," granting in part our motion. The case is known as SAF, et.al. v. ATF, et. al. SAF is joined in the case by Rainier Arms, LLC and two private citizens, Samuel Walley and William Green. They are represented by attorney Chad Flores at Flores Law in Houston, Texas.
Last week, the Supreme Court struck down Biden's student loan forgiveness attempt. Also, the high court overturned affirmative action for college admissions, which angered the president.
But it is his gun control policies which seem to be hitting walls.
Biden came into office more than two years ago, vowing to pass tougher gun laws, and last year he was able to push through a gun control measure following the mass shooting at a school in Uvalde, Texas.
But further successes seem doubtful, and existing gun control laws are under court challenge by SAF and others, in the wake of last year's Supreme Court ruling in New York State Rifle & Pistol Association v. Bruen.
---
About Dave Workman
Dave Workman is a senior editor at TheGunMag.com and Liberty Park Press, author of multiple books on the Right to Keep & Bear Arms, and formerly an NRA-certified firearms instructor.