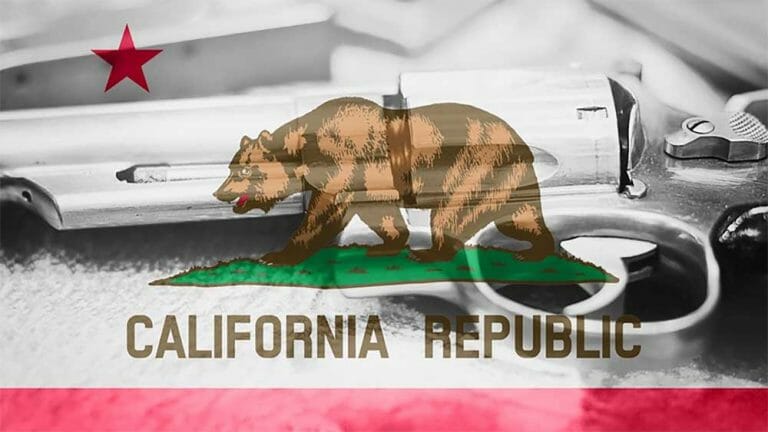 California's "Unsafe Handgun Act" (UHC) appears to be in trouble after a federal judge issued an order granting a preliminary injunction against enforcement of certain sections of the law, while allowing other sections to remain in effect, signaling a victory for Golden State gun owners and the Second Amendment Foundation.
Chief Judge Dana M. Sabraw of the U.S. District Court for the Southern District of California—a 2003 George W. Bush appointee—stayed his own ruling pending an appeal or further hearing on the case, whichever comes first. At the end of his 30-page ruling, the judge noted, "The Court sets the matter for a telephonic status conference on April 14, 2023, at 1:30 p.m., at which time the parties shall advise the Court how they wish to proceed."
Joining SAF in this case are the Citizens Committee for the Right to Keep and Bear Arms, North County Shooting Center, Gunfighter Tactical, San Diego County Gun Owners, the Firearms Policy Coalition, and several private citizens, including Lana Rae Renna, for whom the case is named. They are represented by attorneys Raymond DiGuiseppe of Southport, N.C., Michael Sousa of San Diego, Calif., and William Sack of Havertown, Pa.
This is one of the rare cases in which the CCRKBA gets directly involved as a plaintiff. CCRKBA is the sister organization of SAF and primarily works at the grassroots level.
The case was originally filed in late 2020. It challenges the requirements of California's UHA, adopted several years ago, which includes a codified "roster" of acceptable handguns. The roster limits handgun sales to those models that satisfy numerous testing and "safety feature" requirements, such as a "chamber loaded indicator" (CLI), "magazine disconnect mechanism" (MDM) and microstamping, which plaintiffs say are not required in 47 other states. Microstamping is not offered by any firearms manufacturer, thus preventing virtually all new semi-auto pistols from meeting California's requirements.
As a result, no new models have been added to the roster's approved list for more than a decade, the lawsuit, and Judge Sabraw's opinion, noted. Meanwhile, the limited number of handguns currently on the list has continued to shrink because of the testing and safety feature requirements.
However, the judge denied, without prejudice, a motion by the plaintiffs to enjoin the law's roster fee requirements because they failed to show how it violates their Second Amendment rights.
"It is unclear on the present record how Plaintiffs have standing to complain about fees that must be paid by manufacturers to have their handgun models remain on the roster," Judge Sabraw noted. "Similarly, Plaintiffs have failed to address how the UHA's firing and drop-safety testing requirements for revolvers and semiautomatic pistols violate their rights. Plaintiffs also presented no argument or evidence that the roster listing requirement itself or the mechanical "safety device" requirements for revolvers and semiautomatic pistols violate their rights."

"We're delighted with the ruling, and we expect a satisfactory resolution from the April 14 telephone conference," said SAF founder and Executive Vice President Alan M. Gottlieb. "California's handgun roster requirements were deliberately designed to frustrate the sale of modern handguns in the state and make it virtually impossible for Golden State residents to fully exercise their rights under the Second Amendment, which was incorporated to the states by the 2010 Supreme Court's McDonald ruling."
This isn't the first gun control law in California challenged by SAF, and it will not likely be the last. Lawmakers in Sacramento have persisted in adopting increasingly restrictive gun laws over the past several years.
In a somewhat related case, SAF and several others are challenging California law passed two years ago under which the California Department of Justice shares private gun owner information with the California Firearm Violence Research Center at UC Davis for non-law enforcement purposes.
"Importantly," said SAF Executive Director Adam Kraut, "the Court determined that California failed to present historically comparable analogues to its requirement that handguns be equipped with loaded chamber indicators, magazine disconnect safeties, and have the ability to imprint a microstamp on fired casings. It is long overdue for California's restriction on the ability of its citizens to purchase modern handguns meet its fate of being relegated to the pages of history."
In his order, Judge Sabraw observed, "Defendants also argue '[t]he status quo poses no threat of injury to Plaintiffs, and an injunction would seriously undermine California's considered effort to improve the safety of handguns sold in California.' However, when challenged government action involves the exercise of constitutional rights, 'the public interest . . . tip[s] sharply in favor of enjoining' the law. As discussed, Plaintiffs have demonstrated likely success that the CLI, MDM, and microstamping requirements violate their rights under the Second Amendment. Therefore, the balance of equities and public interest tips in favor of Plaintiffs."
The ruling came on the same day SAF won another significant case, this one challenging Minnesota's prohibition on issuing carry permits to young adults, as earlier reported by Ammoland.
RELATED:
---
About Dave Workman
Dave Workman is a senior editor at TheGunMag.com and Liberty Park Press, author of multiple books on the Right to Keep & Bear Arms, and formerly an NRA-certified firearms instructor.