USA – Depending on your experience, semi auto shotguns like the new Beretta A300 Ultima Patrol Shotgun are either God's gift to shooters or the devil incarnate. Let me explain.
For many shooters, auto-loading shotguns are nothing but trouble; they're ammunition sensitive, overly heavy, and often prohibitively expensive – especially if a reputable gunmaker makes them. Yet somehow, engineers from Italian-American arms maker Beretta have managed to do the unthinkable: build an affordable, reliable auto-loading shotgun that weighs less than many AR-15s. The hype online about the gun is incredible, but can the new Beretta Tactical Shotgun live up to it?
Beretta A300 Ultima Patrol Shotgun

Check current prices here.
The new A300 Patrol is the latest semi-automatic Beretta Shotgun to hit the market, and like all Berettas, it doesn't leave shooters wanting for quality. Available in either grey or tiger-stripe camo, the Beretta A300 Ultima Patrol is a gas-operated, semi-automatic shotgun chambered in 12 gauge. It feeds from an integral tube magazine beneath the barrel that holds seven rounds of ammunition. But the gun is more than just your average auto-loader, so let's start at the muzzle and work our way back to make sure we don't miss any of the juicy details before getting into performance, handling, and the proper review itself.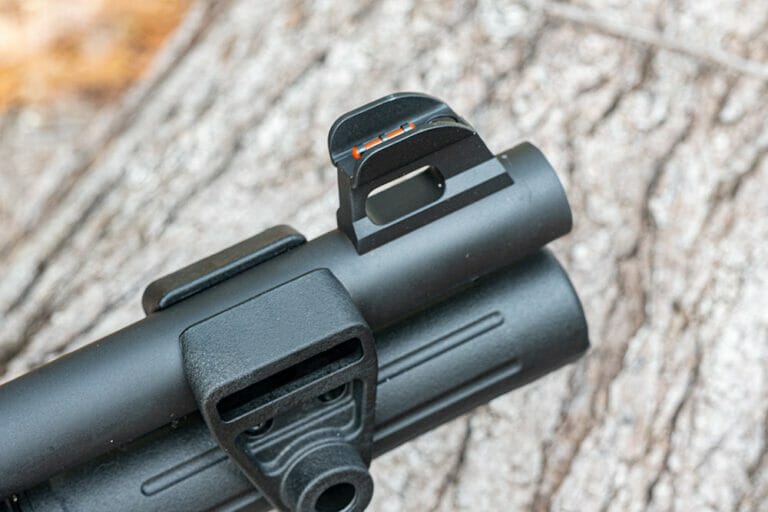 A300 Ultima Patrol Features
The Beretta A300 ships with a 19.1-inch smooth barrel which is (like most Beretta shotguns) threaded internally at the muzzle for MobiChoke pattern chokes, and ships with both a wrench and an improved cylinder choke in the box. Above the muzzle, the new A300 Ultima Patrol comes with a large red fiber optic front sight post with two oversized protective wings.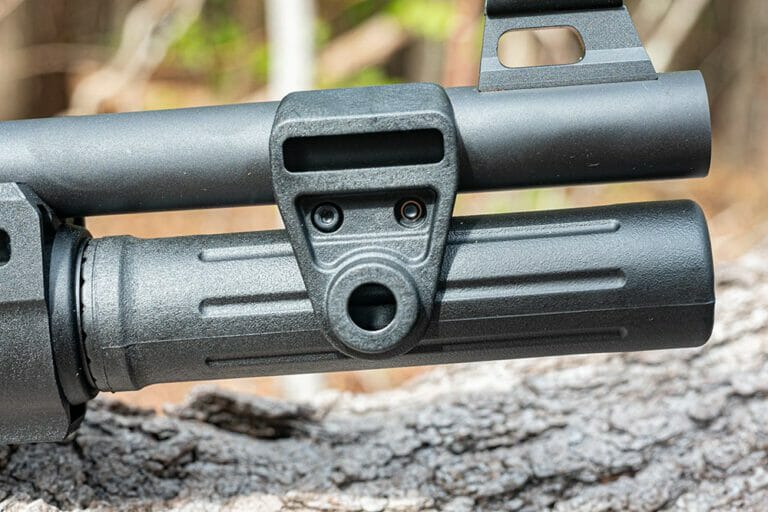 Just behind this, the A300 Ultima Patrol incorporates a barrel clamp that both adds extra rigidity to the extended magazine tube and gives shooters a forward QD sling mount. Continuing back, the one-piece forearm features smaller M-Lok slots at the three, six, and nine o'clock positions for mounting lights or lasers.
One thing I really liked about that forearm is just how aggressively textured it is; it would be next to impossible to lose control of this firearm with your support hand unless a shooter did so intentionally.
Just behind the forearm, the A300 Patrol's receiver includes a short Picatinny rail for mounting optics – which is a great inclusion. One thing of note: if you intend to run a reflex sight, like the Trijicon RMRcc Adjustable Red Dot Sight , on this gun, try to pick one that mounts too low to cowitness with AR-15 sights. Otherwise, you'll have to use more of a chin weld when aiming the gun.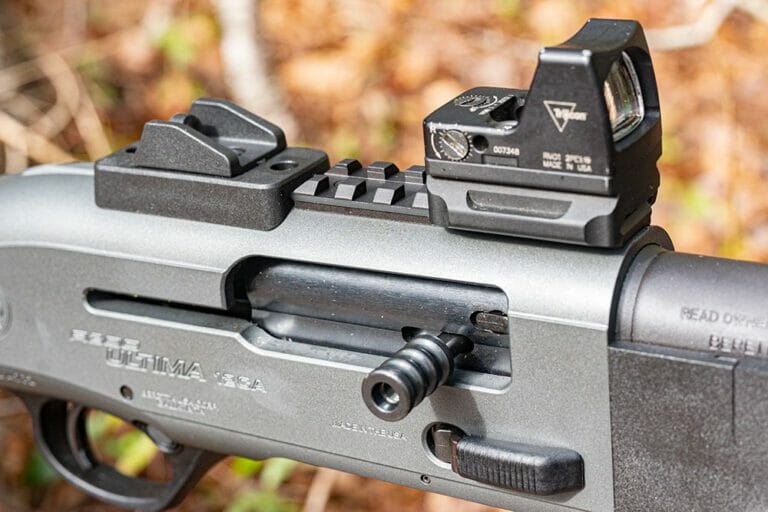 Speaking of sights, the rear sight on the A300 Patrol is a fixed ghost-ring aperture that makes finding that brilliant red fiber optic front sight post a total breeze.
Ergonomic Controls
Beneath the optics rail, the Beretta A300 Ultima Patrol Shotgun uses a ribbed extended charging handle attached to the bolt that makes wracking the action pretty easy. Personally, I would have preferred something a little bigger, but given that this isn't a competition shotgun but a tactical one, the included charger makes total sense.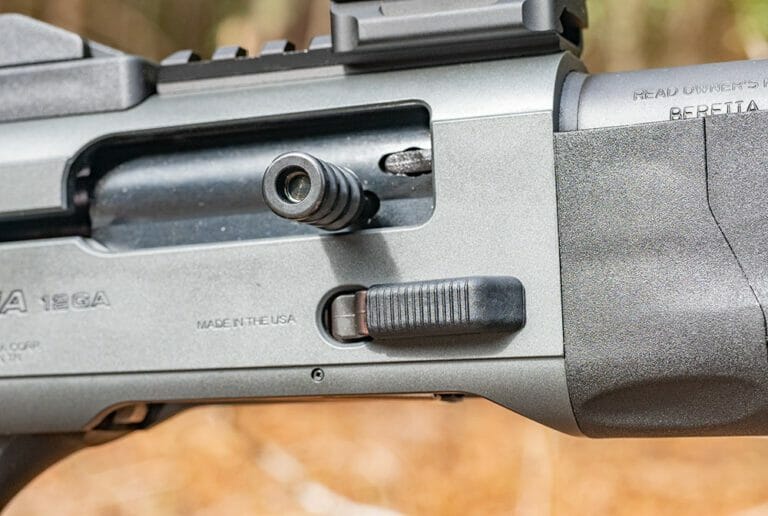 Directly under the charger, the bolt release lever is damn near perfect. Large enough to easily find and manipulate in the dark but not so large that you would accidentally engage it while carrying the gun with a sling. The safety on the A300 is located on the trigger guard, much like those found on the Remington 870, and the trigger pull was light and crisp.
Just behind the action, the A300 Patrol uses the same aggressively-textured polymer featured on the forearm to give shooters a very positive purchase on the gun – but arguably will tear up your hands without gloves with extended use. But I'd rather have sore hands than a dropped gun – plus, the polymer will wear in eventually.
Lastly, the stock itself comes with several interchangeable spacers, so everyone from five-foot-nothing shooters to orangutans can get a proper fit with the gun.
Big Boom; Mild Recoil
But it was the felt recoil of the new A300 Ultima that really sold me on it.
Truth be told, I'm fairly certain the engineers at Beretta must have captured one of those Alien UFOs people keep talking about and reverse-engineered part of it to make this gun. I tested the gun almost exclusively with full-power double-aught buckshot [Federal FLITECONTROL Wad 12 Gauge Buckshot], and I could blast merrily through 150 rounds without feeling sore or having my shoulder bruised to hell. If the gun weighed 15 pounds, I could understand that, but it most certainly does not.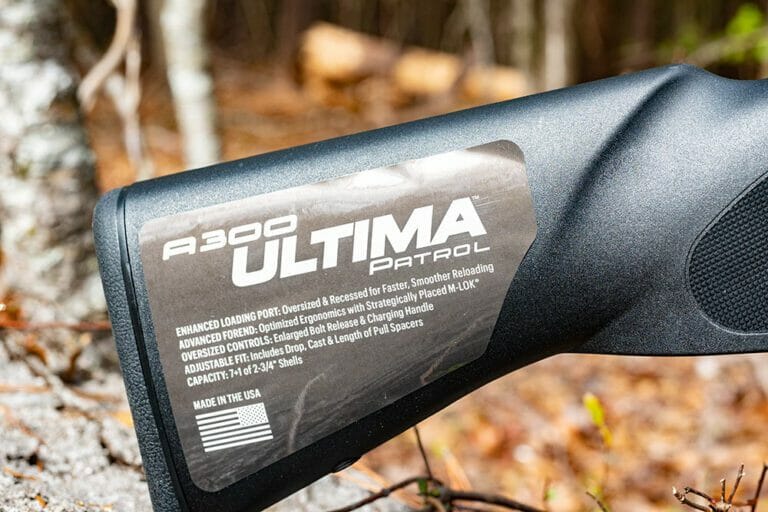 The Beretta A300 Patrol tips the scales at a measly seven pounds, two ounces – but kicks like a 20-gauge auto-loader with buckshot. This is a result of the gun's use of both a well-tuned gas system, as well as the recoil-reducing technology inside the stock itself. Beretta calls it their Kick-Off system, but it's basically a pair of recoil-reducing hydraulic pistons hidden in the stock itself with rubber pads added for extra comfort. I was initially skeptic of the system, but after blasting away all day with a Tactical Shotgun and not needing to ice my shoulder that night, I'm sold.
Beretta A300 Patrol Reliability
I fired 250 rounds of Federal Flight Control double-aught buckshot and 150 rounds of Winchester Univeral number 8 shot through the Beretta tactical shotgun and never encountered a single malfunction whatsoever. It just kept running like it was a pump-action shotgun. The only ammo I could find that it didn't like was some Herter's Low Recoil 7 1/2 shot. But I have yet to find an auto-loading shotgun that can run any low-recoil ammo – but with how positively the A300 was ejecting spent shells, I decided to try it out.
As far as accuracy, it's a shotgun. But I have to remark that with the included improved cylinder choke, I was able to reliably knock down 12-inch steel plates at 30 yards – and at 20, I would knock them down so hard I was worried they might snap in half!
A300 Downsides
Now that I've drooled over the gun for nearly a thousand words, I did want to mention a few things about the gun that I would have liked to change. The first is the loading gate elevator's geometry. For me, I would often get my thumb caught in it while trying to load shells quickly if I wasn't careful. A little time with a Dremel wheel could solve this, but it's something I wanted to mention.
The second is the gun's use of polymer in the trigger guard assembly. While perfectly durable now, I would feel more comfortable with steel or aluminum components – but I understand that adds both weight and cost the gun. And while there is some parts compatibility between the A300 Ultima Patrol and the 1300 Tactical Shotgun, the trigger housing is not one of them due to the difference in safeties. Oh well, at least complete trigger packs are available for around $170 if you manage to break one outside of the gun's warranty somehow.
Beretta A300 Patrol Verdict
If you don't have a tactical shotgun and want one you don't have to worry about, buy this. Simple as that.
With an MSRP of $1099, the new Beretta A300 Patrol strikes the sweet spot for a bad-ass tactical shotgun with die-hard reliability that isn't going to make most shooters scoff. Yes, there are auto-loading shotguns from Turkey on the net right now for half of this, but they're about as reliable as the weatherman. If you want a gun that brings fight-stopping power to any encounter that you can absolutely rely on in any conditions, the A300 Patrol (or one of the Beretta 1300s) will serve you perfectly.
Beretta A300 Patrol Specs:
Model Code: J32CT11
UPC 082442959832
MPN J32CT11
Model Name: A300 Ultima Patrol Black Synthetic
MSRP: $1099.00
Barrel Length: 19.1″
Choke: MC
Gauge: 12
Total Length: 38″
Weight: 7.1LBS
Resources: Beretta A300 Ultima Patrol Shotgun Product Manual
---
About Jim Grant
Jim is one of the elite editors for AmmoLand.com, who, in addition to his mastery of prose, can wield a camera with expert finesse. He loves anything and everything guns but holds firearms from the Cold War in a special place in his heart.
When he's not reviewing guns or shooting for fun and competition, Jim can be found hiking and hunting with his wife Kimberly, their son, and their dog Peanut in the South Carolina low country.