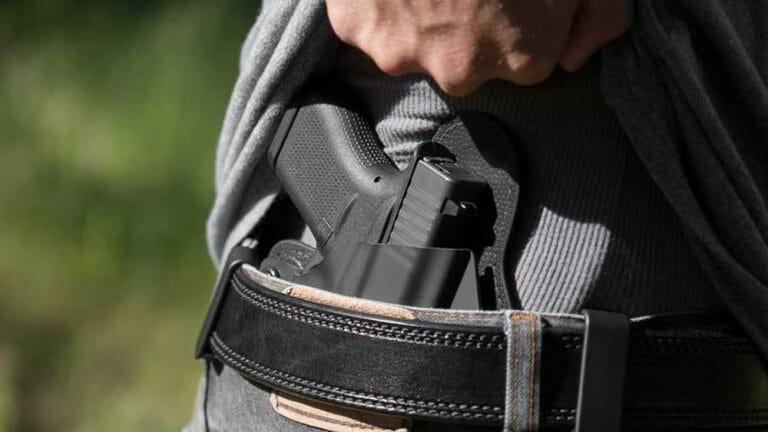 U.S.A. –-(AmmoLand.com)- About the same time Washington State's Department of Licensing was advising Ammoland News that the number of active concealed pistol licenses had hit more than 698,000 on the last day of January, Senators John Cornyn (R-TX) and Bill Hagerty (R-TN) were introducing the Constitutional Concealed Carry Reciprocity Act.
Evergreen State CPL numbers had dipped a little more than 1,700 in December, but January saw a nearly identical rebound. By the end of February, if the pattern continues, Washington will reach beyond the 700,000 threshold, which is no small feat for a "blue" state politically. The latest number is 698,186. On Jan. 3, the total had declined to 696,438.
It's a cinch many of those Evergreen Staters travel to other states, and like the 22 million other licensed concealed carriers, they may want to take their personal protection sidearms along. The Cornyn-Hagerty bill could make that happen if it passes, according to Fox News.
While 45 Republican senators are on board as sponsors or co-sponsors, absent without explanation are Mitt Romney (Utah), Susan Collins (Maine), Lisa Murkowski (Alaska) and Rand Paul (Kentucky). Expect gun voters in their states to start asking why.
There is not a single Democrat on the list, not even West Virginia's Joe Manchin or Montana's Jon Tester.
The bill had not yet been given a number when Ammoland received a copy from Cornyn's office. It's a five-page document that arrived 21 days after Congressman Richard Hudson reintroduced HR 38, dubbed the Concealed Carry Reciprocity Act, which he has introduced in the past. In December 2017, that bill was passed by the House, then under Republican control. But it went to the Senate, where Mitch McConnell was then majority leader, and it gathered dust, despite indications from then-President Donald Trump he would sign.
This time around, McConnell is on board as a co-sponsor, along with Senate Minority Whip John Thune (S.D.) and most of their colleagues. Here's the rest of the roster:
Ted Cruz (R-TX), John Barrasso (R-WY), Tom Cotton (R-AR), Thom Tillis (R-NC), Cindy Hyde-Smith (R-MS), Chuck Grassley (R-IA), John Kennedy (R-LA), Jerry Moran (R-KS), Kevin Cramer (R-ND), Bill Cassidy (R-LA), Mike Crapo (R-ID), Rick Scott (R-FL), John Boozman (R-AR), Josh Hawley (R-MO), John Hoeven (R-ND), Marsha Blackburn (R-TN), Roger Marshall (R-KS), Marco Rubio (R-FL), Deb Fischer (R-NE), Tommy Tuberville (R-AL), Tim Scott (R-SC), Lindsey Graham (R-SC), Markwayne Mullin (R-OK), Ted Budd (R-NC), Pete Ricketts (R-NE), Todd Young (R-IN), Cynthia Lummis (R-WY), Eric Schmitt (R-MO), Mike Braun (R-IN), J.D. Vance (R-OH), Roger Wicker (R-MS), James Risch (R-ID), Ron Johnson (R-WI), Katie Britt (R-AL), Shelley Moore Capito (R-WV), Joni Ernst (R-IA), Steve Daines (R-MT), James Lankford (R-OK), Mike Lee (R-UT), Mike Rounds (R-SD), and Dan Sullivan (R-AK).
Three major national gun rights organizations have thrown their weight behind the legislation. The National Rifle Association, Citizens Committee for the Right to Keep and Bear Arms, and National Shooting Sports Foundation were quick to support the bill.
It may be important to explain what the bill won't do in order to head off efforts by anti-gunners to stop this bill using misinformation and hysteria. It doesn't endanger any state's carry laws.
The bill "Protects state sovereignty by not establishing a national standard for concealed carry," according to Cornyn's office.
In addition, the senator's news release continued, the bill "Allows individuals with concealed carry privileges in their home state to exercise those rights in any other state with concealed carry laws."

Lastly, and perhaps the most important point, the bill "Treats state-issued concealed carry permits like drivers' licenses where an individual can use their home-state license to drive in another state, but must abide by that other state's speed limit or road laws."
Translation: This bill does not make it impossible for states to enforce their own laws if someone from another state misbehaves.
As noted by CCRKBA's Alan Gottlieb in a news release, "The last time a national reciprocity bill was introduced…the gun prohibition lobby and Capitol Hill anti-gunners flat-out lied about what it would do, and not do. Wild claims that reciprocity would force states to not enforce their own laws ran rampant, as did the specious argument that the federal government would adopt a single weak standard everyone would have to follow.

"That experience reminded us how anti-gunners will say literally anything to prevent law-abiding Americans from being able to exercise their right to bear arms, and to defend themselves, while traveling," Gottlieb added. "It's time for national reciprocity to become the law of the land, and we hope American gun owners will keep an eye on this legislation."
Backers of the legislation all concur on one important point beyond any others: Nobody should leave his or her right to bear arms or the right of self-defense at the border of their home state.
Now there are probably long odds against this bill passing through Congress, same as Hudson's HR 38, because Democrats control the Senate and perennial anti-gunner Joe Biden controls the veto pen. Yet, it puts the gun prohibition lobby on edge that such a bill is even being considered. Perhaps there's a small victory in that.
And, with the likelihood growing that Florida will adopt permitless "Constitutional" carry sometime this year, anti-gunners may be getting the sense they are losing ground as the courts—following the Bruen ruling of 2022—are at least trying to adhere to the Supreme Court's new formula for deciding Second Amendment cases.
Laws passed by anti-gun states such as Illinois, New York, California, and New Jersey are challenged almost before the ink is dry. Restrictions added in Oregon and Washington are hit with multiple legal actions.
Perhaps the Cornyn-Hagerty is an important shot across the Democrats' bow, signaling that the days of the gun control juggernaut are coming to an end.
---
About Dave Workman
Dave Workman is a senior editor at TheGunMag.com and Liberty Park Press, author of multiple books on the Right to Keep & Bear Arms, and formerly an NRA-certified firearms instructor.